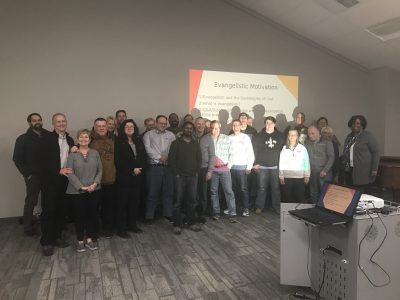 Purpose/Mission Statement 
The purpose of our Men's Ministry is to equip men to become fully devoted followers of Christ. 
Please follow this LINK to view the Men's Ministry Mission Statement. 
As a ministry, we will have: 
Wednesday Evening Bible Study - (Fall through Spring, 6:30pm) The men study the same book of the Bible as the women & teens. This affords us the opportunity to lead our families in discussions about God's Word. 
First Mondays - Monthly Men's Ministry Meetings on the first Monday of each month that include: 
A delicious meal

 

Hear a fellow man in the congregation "Share His Story"

 

A Bible study relevant to Christian men in their walk; currently 

using 

chapters from 

Discip

lines of a Godly Man 

by R. Kent Hughes as a starting point for teaching/discussion

 

Interactive table discussions

 
Worship

 

Prayer time

 

Fellowship time

 
Please follow this LINK for audio of First Monday Lessons and Testimonies. 
Men's Retreat – In the fall of each year, we have a two-day (Friday/Saturday) retreat. In 2019, we went to Camp Faholo.
Please join us on Friday, 9/25, and Saturday, 9/26, for the 2020 retreat that will be held here at Berean.
You will receive a complementary copy of Vince Miller's Called to Act: 5 Uncomplicated Disciplines for Men.
The teaching roster for 2020 is:
Prayer: Ben Bartlett
Scripture: Jonathan Brown
Brotherhood: Aaron Hensler
Accountability: Curt Whipple
Ministry: Gregory Brown

Evangelistic Outreach Training Workshops – Held periodically on Tuesday evenings, hear from members of the congregation engaged in outside evangelism and kingdom building. Learn how you can share the Gospel with those in your life. Check the church calendar for specific details. 
Father-Son and Father-Daughter Events – Held periodically; check the church calendar for specific details. 
Additional Opportunities 
Men's Conferences – We attend the Together for the Gospel Conference in Louisville, KY (held every even year). We also attend the Fellowship in the Gospel Conference at Union Lake Baptist Church (held in the spring of each odd-numbered year). 
Anchormen - All men are invited on Monday mornings at 7:30 am for this time of prayer and Bible Study. 
Iron Men – In 2019, we organized a number of conversation groups so that three Christian men in the congregation could fellowship regularly. Watch your mailbox for updates on new groups. 
New Life Rescue Mission (Detroit) - All men are invited to serve together at NLRM on the 2nd Sunday evening of each month. 
Weekly News – In addition to formal announcements in the Thursday Bits & Bytes, we periodically send out an email from the Men's Ministry for those who have provided their emails. If you do not receive these emails (usually sent on Sunday or Monday), please let us know, and we'll put you on the list.