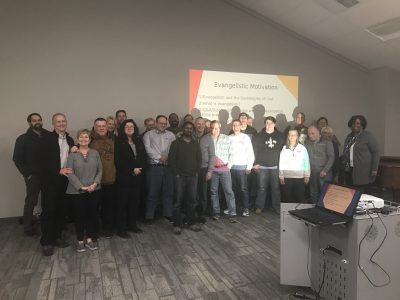 Current Study Materials
Read, Mark, Learn: John (during Revere & Recharge, Wednesday evenings 6:30 pm - 8:15 pm, beginning September 12th and ending April 24th; also Wednesday mornings 9:30 am - 11:00 am).
The purpose of our Men's Ministry is to equip men to become fully devoted followers of Christ.
Please follow this LINK to view the Men's Ministry Mission Statement.
As a ministry, we will have:
Monthly Men's Ministry Meetings on the first Monday of each month that include:
A Bible study that helps you see Christ in a whole new light
A delicious meal
Interactive table discussions
Worship
Prayer time
Fellowship time
Please follow this LINK for audio of First Monday Lessons and Testimonies.
Men's Conference – Every odd year (2017, 2019, etc.), we have a Men's Conference centered on the Bible. Also, we attend the Together for the Gospel Conference in Louisville, KY (held every even year).
Discipleship classes – If you are a new Christian, our discipleship classes help you grow in your faith through learning how to study the Bible, share your faith and pray effectively.
Wednesday Evening Bible Study - (Fall through Spring, 6:30pm) The men study the same book of the Bible as the women & teens. This affords us the opportunity to lead our families in discussions about God's Word.
Anchormen - All men are invited on Wednesday mornings at 7:30 am for this time of prayer and Bible Study.
New Life Rescue Mission (Detroit) - All men are invited to serve together at NLRM on the 2nd Sunday evening of each month.